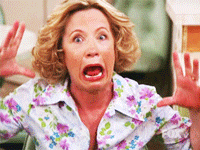 😂 is that supposed to be mom
yes! hahaha doesn't it fit?
oh my gosh, ane you you aren't supposed to jump on that so fast
but it fits! we always tell him he's the disappointment.
it's because he is the baby. you are married you make the parents happy. i'm still not married, i think dad is worried about me
dad is worried you won't give him grandbabies
literally what you are for, as the oldest. you have to take this one for the team
who says i want kids though?
who cares, you are the oldest. by divine right, you have to spawn
i think that's mom's fear, he's going to before either of us does
well he does date more than you do
speaking of, anyone interesting out there?
emori are you ignoring me?